Bond Arms Texas Defender 410/45lc 3"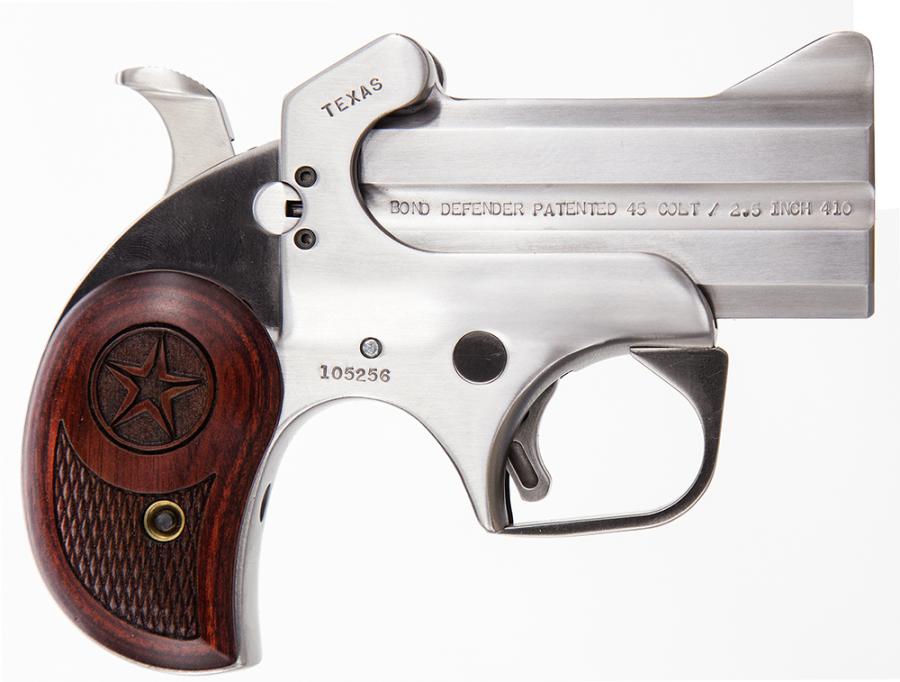 Currently Unavailable
MSRP

$54300

Restricted
Bond Arms Texas Defender 410/45LC 3" 2rd Lam Rosewood Grip Satin SS
All Bond Arms pistols are computer numerically controlled, machining can maintain tolerances of .001 of an inch. This precision machining allows for perfect interchange of barrels without custom fitting. All bond Arms pistols will accept 14 different barrels which will allow 24 different cartridges.
Item Info
| | |
| --- | --- |
| Item | Currently Unavailable |
| UPC | 855959001017 |
| Brand | Bond Arms |
| Model | Texas Defender |
| Mfg No | BATD45410 |
| Caliber | .45 Colt/.410 |
Tech Specs
| | |
| --- | --- |
| Type | Derringer |
| Action | Break Open |
| Barrel Length | 3" |
| Capacity | 2 |
| Safety | Crossbolt |
| Grips | Laminate Rosewood |
| Sights | Blade Front, Fixed Rear |
| Weight | 20 oz |
| Metal Finish | Stainless |
| Stock Material | Rosewood |
| OAL | 5" |
| Stock Finish | Satin |
| Stock Type | Pistol Grip |
| Purpose | Personal Protection |
| Series | Texas Defender/Cowboy Defender/Century 2000 Derringers |
| Finish | Ss |
| Product Model | Texas Defender |
| Stock | Rosewood Grips |
| Overall Length | 5 |
| Features | Spring Loaded Extractor/ Removable Trigger Guard |